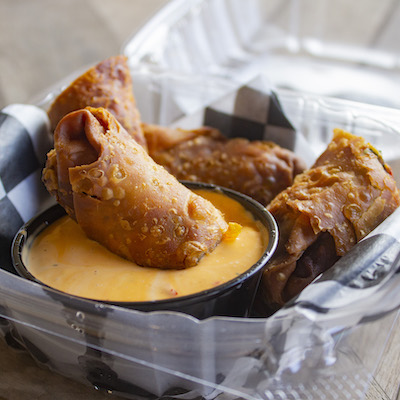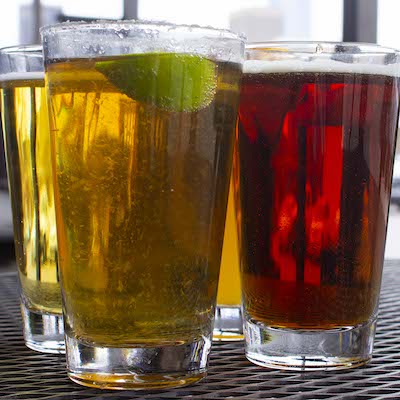 After Hours
Tuesday–Friday: 4:00 p.m.–9:00 p.m.
Brisket Tacos
House smoked brisket served on a flour tortilla with pepper jack cheese, lettuce, tomato, and fried onions finished with a jalapeno avocado ranch.
(2)-$8.95 (3)-$10.95
Burger Sliders
Onion fried burgers finished with your choice of cheese, spicy fried pickle and garlic aioli.
(3) – $11.95
Wings
Traditional bone-in wings tossed with your choice of sauce: buffalo, bbq, or garlic parmesan.
(6)-$8.95 (12)-$14.95
Reuben Egg Rolls
House made with pastrami, swiss cheese, and sauerkraut flash fried to a golden brown served with a horseradish caper dipping sauce.
(3)-$9.95
Fried Pickles
Thinly sliced pickles breaded and fried to golden perfection served with ranch and boom boom sauce.
$9.95
Kamp's 1910 Ponachos
House made potato chips covered in green chili queso blanco and pepper jack cheese finished with jalapenos, tomatoes, red onions, black beans, bacon crumbles, and sour cream.
$10.95
Add pulled pork or chicken +$2.00

Meatballs
House made with ground beef and Italian sausage served with marinara or bourbon bbq.
(4)-$9.95
Fried Cheese
Italian style house made breaded provolone served with marinara.
(6)-$9.95
Happy Hour
Tuesday-Friday: 4:00 p.m.-6:00 p.m.
$5 Kamp's classic cocktails & $1 off select draft beers.
Kamps Mason Jar Margarita
Mix of silver tequila, triple sec, lime juice, and agave nectar.
Pumpkin Old Fashion
Kamp's take on a classic finished with a cinnamon stick.
Luxardo Manhattan
Blend of rye and bourbon Manhattan spiked with Luxardo Simple Syrup.
Cranberry Whiskey Cider
Fall blend of flavors with cranberry juice, apple cider and bourbon.
Apple Pie Cocktail
Fireball, vanilla vodka, apple cider, and a splash of half n half.
Pomegranate Margarita
Twist on our Kamp's Margarita.
Southern Hurricane
Southern comfort with a blend of pineapple juice, orange juice, grenadine, and sweet n sour.
Rumchatatini
Delicious blend of Rumchata, brandy, and apple juice with a sprinkle of cinnamon.
Draft Beers
Bud Light
Coop F5 IPA
Newcastle Brown
Karbach Seasonal
Shock Top
Shiner Bock
Beers
Michelob Ultra
Budweiser
Coors Light
Blue Moon
Corona
Modelo Especial
Modelo Negra
Guinness Stout
Karbach Southern Wheat
Heineken
Stella Artois
Everything Rhymes with Orange IPA
White Wines
Terra d'Oro Moscato
Chateau St. Michelle Riesling
Pamelo Rose
Torreselo Pinot Grigio
Joel Gott Sauvignon Blanc
Hess Chardonnay
Red Wines
Carmel Road Pinot Noir
Brown Uncaged Red Blend
Coppola Red Zinfandel
Jacob's Creek Merlot
Black Station Cabernet Sauvignon 10 NE 10th St
OKC, OK 73104
Monday: 6 AM–4 PM
Tuesday : 6 AM–9 PM
Wednesday: 6 AM–9 PM
Thursday: 6 AM–9 PM
Friday: 6 AM–9 PM
Saturday: 7 AM–2 PM
Sunday: Closed